Globalization has led to a plethora of international or cross-border business and commercial transactions. Many law firms focus only or increasingly on this type of work prompting many lawyers and future lawyers to want to specialize in this area. Although practicing in the area of international business, commercial or M&A transactions is one way to gain relevant expertise, another common approach is to undertake an LL.M. program in business law or an LL.M. program in international commercial law.
Today, in recognition of these realities, a growing number of law schools in the U.S., U.K., and mainland Europe offer LL.M. degrees specializing in business and commercial law. However, deciding which of the myriad of options is the best can prove a daunting task. Here, we compare some of the leading business law LL.M. programs currently being offered by law schools internationally.
Stanford University
The LL.M. in Corporate Governance & Practice at Stanford is a focused business law program offering a wide variety of core business law courses. To be admitted to this program, students must have at least two years of professional experience. The degree requirements for this program are higher than most as students are required to take a minimum of 35 units (A typical course being 3 units).
New York University
NYU's LL.M. in Corporation Law offers the distinct advantage of working under the direction of a former Delaware Chancery Court Judge and several notable corporate scholars. The program also allows students to undertake a wide variety of courses relating to business law, including from the Stern Business School.
University of California, Berkeley
Instead of offering a business law-focused LL.M., Berkeley offers a Certificate in Business Law. The Certificate requires the completion of three out of four mandated courses (Antitrust, Corporate Finance and Law, Securities Regulation, Income Tax I), a 20 page research paper, and an additional elective course.
University of Pennsylvania
Penn offers a certificate program entitled the "Wharton Business and Law Certificate" in conjunction with the prestigious Wharton School of Business. This program enables students to study core business, not only business law, subjects and facilitating a more holistic understanding of business issues.
University of California, Los Angeles (UCLA)
UCLA Law School offers a specialization in Business Law which requires students to take business associations and tax law in addition to two other mandated courses selected from a list. However, UCLA also offers specializations in Bankruptcy, Securities Regulation, and Tax. Other benefits of the UCLA program are the chance to participate in the events at the newly created Milken Institute for Business Law and Policy and its stellar business law faculty including corporate law guru Stephen Bainbridge.
Vanderbilt University
Vanderbilt's LL.M. in Law and Business requires students to take six mandatory classes which include Corporations, Introduction to Accounting, Introduction to Corporate Finance for Lawyers, Securities Regulation, Federal Tax Law, and Introduction to Legal Research and Writing in the United States. Vanderbilt also offers the added advantage of having two Delaware court judges as adjunct professors: Leo Strine and William Chandler.
Georgetown University
Georgetown offers an LL.M. specialization entitled "International Business and Economic Law." This degree offers a much wider specialization than a focused business law LL.M. For instance, it requires students to take mandatory courses in International Business law subjects such as in International Law or International Trade Law. More importantly, it does not mandate the writing of a dissertation.
University of Cambridge
Starting in the 2012-2013 academic year, Cambridge will be teaching the MCL, a Masters degree in Corporate Law, which has a distinctly international and comparative U.S.-U.K. perspective. The program also mandates a year-long "Deals" course on corporate transactions as well as offering six individual modules. Entry requirements for the program are described as "high", noting that only first class degrees from U.K. universities, or their equivalents, will be accepted.
Queen Mary University of London
The LL.M. in Corporate and Commercial Law offers a wide variety of core and related business law courses. Students are required to elect a minimum of two modules from a prescribed list and complete their dissertation in the field of Commercial and Corporate Law.
London School of Economics
LSE offers four specializations related to business law: International Business Law, Banking Law and Financial Regulation, Corporate and/or Commercial Law, and Corporate and Securities Law. To qualify for a specialization, students must undertake 3 units of courses prescribed in the specialist area in addition to a dissertation.
Bucerius Law School
The Master of Law and Business at Bucerius offers complementary law and business courses which aim to provide an interdisciplinary approach to studying international business issues. As part of the program, students undertake an internship and a social project in addition to their general studies and drafting of a master's thesis.
Leiden University
The European and International Business Law program at Leiden focuses on the impact of EU law on government and enterprises in a global economy and further concentrates on its repercussions and interactions with other international institutions such as the World Trade Organization. Students in this program must complete nine courses, work on the European Law Moot Court, and a master's thesis.
Tilburg University
The LL.M. in International Business Law at Tilburg University requires students to typically complete 10 courses in subjects relating to international business law in addition to completion of a Master's thesis.  Notably, the Master's thesis must be defended prior to the degree being awarded.
Additional Factors Worth Considering
In addition to the brief descriptions of each of the business law LL.M. programs presented here, prospective applicants should check the individual listings of courses offered at each school and examine the credentials of the faculty of interested schools. It is equally important to assess which courses are being offered for the upcoming academic year as some schools do not offer all courses every year.
Finally, there may also be value in pursuing an LL.M. at a law school that does not offer a specialization in business law if the law school offers a wide variety of business law classes and at least one faculty member is well known in the area of business law. Some examples of this practice include Harvard University, under the tutelage of Lucian Bebchuk; Columbia University, under the tutelage of John Coffee; or University of Oxford (which, however, offers a Master's in Law and Finance), under the tutelage of John Armour.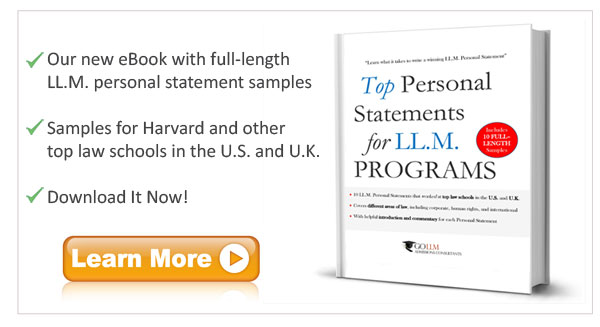 ---