Are you unsure how to approach Harvard Law School's LL.M. personal statement? You are not alone. The Harvard LL.M. personal statement is one of the most demanding hurdles that successful applicants to this elite institution must overcome.
At the same time – and given that each competitive Harvard applicant will have stellar grades, references, and other application documents – Harvard's personal statement gives prospective LL.M. candidates the chance to distinguish themselves by demonstrating both their analytical abilities and critical thinking skills as well as the personal characteristics that make them unique.
Formal Requirements
According to Harvard's LL.M. application requirements, the personal statement must consist of two parts. These parts can be in the same document but should be clearly separated by using "Part A" and "Part B" headings.
As a whole, the Harvard Personal Statement (both parts) must not exceed 1,500 words. Part A, the legal essay, needs to constitute at least half of the total length, that is it should be 750 words or more. Footnotes are not counted towards the overall word limit of 1,500 words as long as they consist solely of sources and citations and are not lengthy textual footnotes.
Legal Essay (Part A)
The first part of the Harvard LL.M. personal statement (Part A) is the legal essay portion. Here, applicants must describe either an important issue in their field of interest or a current legal problem facing a particular country, region, or the world, and then propose a theoretical framework or a legal analysis or strategy to address this issue.
As the question for Part A already implies, the legal essay needs to be more normative rather than purely descriptive. Ideally, this part will identify a gap in the literature, which demonstrates originality and a profound understanding of the legal issue. It should also offer a novel and unusual approach to a relevant legal issue, which accords with Harvard's instructions and expectations for this portion of the personal statement.
The ideal personal statement is, in addition, exceptionally well-written and researched. It should contain appropriate references and, where necessary, explanatory footnotes, although these should be kept to a minimum and may count towards the word limit (see our eBook for a successful Harvard legal essay example).
Personal Statement (Part B)
The second part (Part B) of the Harvard LL.M. personal statement is more akin to a traditional LL.M. personal statement. In this part, applicants are asked to discuss why they wish to pursue an LL.M. degree at Harvard and how doing so connects with past activities and future plans. Part B should offer a compelling personal story. It often makes sense to connect this to an applicant's interest in specific aspects of law or his or her academic or professional career.
Again, this part should show innovative, out-of-the-box thinking and the applicant's strong interest in the legal issues in her particular area of expertise. Moreover, Part B should be utilized to emphasize the applicant's strengths and experience while still portraying him or her as an intelligent and modest individual that would make a great addition to an LL.M. program.
The personal statement can discuss a variety of topics, although most candidates will discuss issues that arose and dilemmas that they solved. Law school personal statements typically revolve around leadership potential, integrity and accountability, intellectual curiosity, determination in the face of adversity, problem-solving skills, dedication, compassion, creativity, and personal skills.
These traditional themes are good choices for the Harvard LL.M. personal statement too, although given that the LL.M. is an advanced legal degree they should be more informed by what the applicant has achieved or wants to pursue in the law. If the applicant has an actual interest in working with a certain faculty member – and perhaps is even familiar with his or her work – or be part of academic or research centers and activities, this may also be appropriately highlighted or woven into the statement. Of course, it goes without saying that unsupported claims, bragging, and exaggerations are unhelpful at best.
Conclusion
Harvard's LL.M. personal statement is one of the most difficult pieces in the LL.M. application puzzle. Nevertheless, on the positive side, with the appropriate investment of time and dedication, it can be mastered. Harvard's preferred deadline for LL.M. applications is November 15 (the official deadline is December 1). Thus, get started early and think about how you can master this ivy league's LL.M. personal statement. Careful planning and researching will be your first step towards a top-notch Harvard LL.M. personal statement.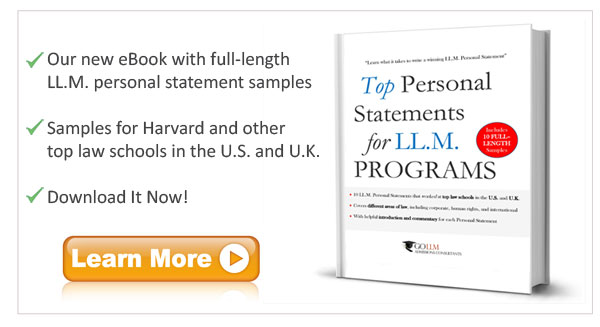 ---