As part of your LL.M. application, some law schools will ask you for or give you the opportunity to submit a resume (or curriculum vitae, cv). While the LL.M. resume is often not as challenging to craft as its more important cousin, the LL.M. Personal Statement, you should not underestimate its importance or the pitfalls it can present.
Although there is no one universal approach to drafting a resume, certain commonalities of a good LL.M. resume quickly become apparent. For instance, unlike a work or professional resume/cv sent to an employer, which naturally emphasizes work experience, a good LL.M. resume will highlight an applicant's academic path and strengths. To that end, LL.M. resumes should focus on academic achievements, publications, notable class ranks, and awards and distinctions. Indeed, for many applicants, it is better to list academic experience before work experience. This could be different, however, if an applicant has substantial work experience or for some other reason decides to emphasize work, such as when applying to an executive LL.M., where the focus is naturally on professional experience. However, notable extra-curricular activities, interesting hobbies, language abilities, and other unique qualifications may also be listed in an LL.M. resume.
An LL.M. resume is, in the end, much more than just a chronological compilation of educational and professional data. If done right, an LL.M. resume will reflect an application's overall "theme" and reinforce the image that an admissions committee has from looking at an applicant's other application documents. For example, if an LL.M. personal statement and overall application are geared towards conveying an applicant's interest in corporate governance issues in emerging economies, then the LL.M. resume should support that theme by listing the applicant's academic pursuits, publications, professional memberships, etc. in this particular area.
Presentation is similarly important. Experts disagree on details such as what fonts should be used, what margin sizes to choose, and how many bullet points and sub-bullet points are appropriate. However, these formatting details are of secondary importance as long as the LL.M. resume is well structured, has a modern, clean, and easy to read look, and is free from spelling and other errors. Another point of debate is the number of pages that a resume should have. Again, there is no hard and fast rule. While one page may be enough for some candidates, two (or even more pages) may be appropriate for applicants who have more extensive academic and/or professional records.
Finally, resumes should reflect the right tone, a matter which is country specific. For example, an LL.M. resume for an American school should boldly list each and every one of the applicant`s skills and attributes while resumes for European schools should be more modest.
A basic sample resume can be found in our popular LL.M. Application eBook.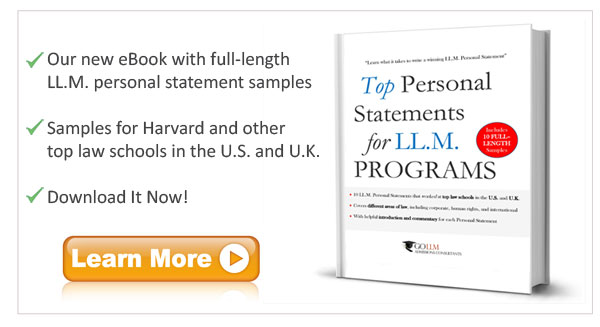 ---