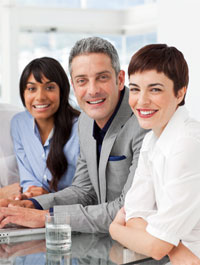 Inside Knowledge of the LLM Admissions Process
After reviewing yet another LL.M. application or J.S.D./Ph.D. application we received while sitting on LL.M. admissions committees and doctoral admissions committees that contained unfocused personal statements, weak research proposals, error-laden resumes, or faulty reference letters, we were struck by how poorly most of the applications that came to us were formulated.
Having once been LL.M., J.S.D., or Ph.D. candidates ourselves at elite law schools, we thought if only we could pass our knowledge on to applicants, we could help them craft successful application materials and achieve their goals.
Today, we focus on supporting applicants draft the LL.M. applications and doctoral applications we wish we had received when we sat on admissions committees of top universities in the United States, Canada, and the U.K.
Value Added to Your LLM Application
The value we add to your application is a combination of our expertise as both former applicants and as former reviewers of applications. This gives us the unique ability to understand your needs as an applicant, having been in the same position ourselves, while simultaneously understanding what admissions committees are looking for. More importantly, having achieved success through our LL.M. and J.S.D. programs, we want you to achieve success too.
Our Approach to Admissions Consulting

Based on our experience as former LL.M. applicants and as admissions committee members, we employ a 5-part strategy for LL.M. application support and consulting:
First, we listen to you and your needs. Our goal in doing so is to ascertain what makes you the individual you are and enables us to provide you with custom-tailored advice.

Second, we canvass your strengths and weaknesses. This enables us to determine what aspects we should highlight in your LL.M. application and what shortcomings we need to overcome. Furthermore, this allows us to inject a degree of objectivity into your application, letting you see how admissions committees may view you before the actual review of your application.

Third, we get to know you. Your application tells your life story. If we do not know you, we cannot help you tell your story and emphasize your strengths and attributes.

Fourth, instead of telling you what to do, we work with you and guide you along the admissions process. We see ourselves as part of your team. Because of this approach, your LL.M. application and its success are our highest priority and we will work hard to help you reach your goals.

Fifth, and finally, if you decide to take advantage of our full range of services, we work with you until your application is complete. Completion, however, is not merely the finishing of all parts of an LL.M. application, but rather when the LL.M. application has reached the standards that admissions committees desire.  We promise not to stop working until we know we have done everything to show you in the most desirable light.
Doctoral Application Support
For J.S.D., S.J.D., Ph.D., and D.Phil. programs in law, our approach is essentially the same as for LL.M. applications. However, we also devote a large part of our efforts to refining the research proposal or doctoral proposal.  Not only can we work with you to help you devise a high-level, well-researched proposal, but we also focus on editing, structuring, and reformulating the proposal.