The recent weeks have been difficult for everybody, including of course international students enrolled in LL.M. programs at law schools in the US and UK. Even before the official 'shelter in place' orders in the US and the general 'lockdown' in the UK, many schools shifted to online teaching and students left their host country to return home. Assessments have been disrupted, cancelled and/or replaced with new, alternative formats. Graduations will also not go ahead as planned. But the impacts of coronavirus and Covid-19 on your LL.M. are far from over.
Current LLM Students
For current LL.M. students, in addition to the above mentioned difficulties, there are various uncertainties due to coronavirus, from visa issues and job market related concerns to questions about exams and commencement. There is also the problem of taking the US Bar Exam.
For example, the New York Court of Appeals already announced in March that the New York State Bar Examination will be postponed to September 2020, meaning that the July NY Bar Exam will not take place as originally planned. The good news is, at least, that bar review courses can be taken online, which means you would not have to return to the United States.
But there is also some uncertainty with regards to the impact of online education on LL.M. students' ability or qualification to sit for US bar exams. The rules in New York, for instance, normally require that candidates need to take their courses in person and not remotely or via online or distance learning. However, at least for the time being, there is a solution. In April 2020, the NY Court of Appeals announced a waiver pertaining to law school instructional requirements and the bar admissions process, including limits on distance education. This waiver, however, is only temporary.
Current LLM Offer Holders
The next LL.M. programs will start in a few months, and some applicants already hold offers or have accepted offers for a summer or fall 2020 start date. There are many questions: What should you do as a prospective LL.M. candidate? Will it be safe to travel? How will coronavirus and Covid-19 affect your Master of Laws studies and student or learning experience?
Unfortunately, there aren't many firm answers now. Most universities and law schools are still working on their plans for the next academic year and have advised offer holders that further details and information will follow in the coming weeks. But it seems clear that LL.M. programs will go ahead in 2020, and that universities try to avoid delays.
Importantly, however, it is as of yet unclear what format the LL.M. teaching delivery will take. Here, everything is still on the cards. From 100% online or distance learning, to blended teaching (a mix of online and face-to-face teaching) or even, in the best case scenario, fully face-to-face teaching on campus. Realistically, and from what we understand from our contacts, the most likely outcome is at the moment that teaching will be blended or potentially even online only, at least for parts of the academic year.
As a current LL.M. offer holder worried about the impact of coronavirus, you should at least try to ask for an extension for making any firm decisions as well as for more time to pay your deposit.
If you haven't accepted any offers yet, should you do so? It depends on your preferences and future career plans. If you are fine with potentially plenty of online teaching, or perhaps even prefer remote learning, then you might as well go ahead. The same is true if you need your LL.M. as quickly as possible for professional reasons, and also if you already have a job secured for after your LL.M. degree. If these things are not true in your case, then it could make sense to try and defer your offer and delay your start date.
Prospective LLM (2021-22) Applicants
The next LL.M. application cycle is just about to start. How does coronavirus affect LL.M. applications for the 2021-2022 academic year? Will it now be more or less difficult to get admitted?
Again, it is difficult to offer any firm advice at this stage. If you are applying now, it might well be somewhat easier to get admitted to a top LL.M. program given that there will likely be less applications and law schools are keen to admit new students. On the other hand, it is more difficult now to apply given that English language test centers are closed and there will be delays in collecting vital documents related to your applications, such as transcripts, diplomas, reference letters, travel documents, and so on.
Also, there will still be uncertainties when it comes to the mode of teaching. Although 2021 is still far away, it might well be that the Covid-19 related disruptions and the negative effects on universities, the travel sector, visa and immigration, etc. will still be prevalent. For the sake of the next generation of LL.M. students, we truly hope that we will be able to return to a more normal way of life as soon as possible.
If you have any comments or questions, we are always happy to hear from you. Please do get in touch.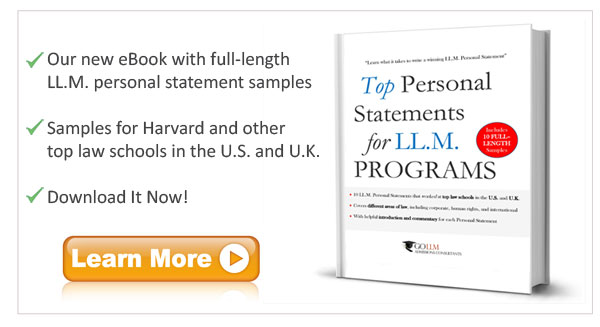 ---