U.S. News reminds us that applicants should use news and recent events to customize law school essays for each school that they are applying to:
 Doing so shows a school that you have done the requisite research about its programs, faculty, and campus life, and that you would uniquely benefit from its offerings as you pursue your legal education.

In order to best customize your essays, start keeping up with news from your top choice law schools. You can follow the schools on Twitter, like them on Facebook, read their blogs, and visit the news pages on their websites.
This, of course, applies with equal force to LL.M. applications and the much-dreaded LL.M. personal statement. An excellent LL.M. personal statement has to be tailored to individual law schools and LL.M. programs. It also ties in nicely with what we wrote on "being specific" in a recent post on how to write your LL.M. personal statement:
Applicants are often asked to explain why they are particularly interested in the law school to which they are applying to. Do not just say that the school is "excellent" or "esteemed" or that it provides a stimulating intellectual environment. Too many applicants before you have already used those exact words. Instead, find out as much as you can about each law school and provide meaningful and specific reasons as to why you are applying. For example, you could be interested in a specific subject area that aligns with a law school's core strengths; perhaps you know a faculty member and have a genuine interest in working with him or her; or you could explain why a particular law school or Master of Laws program is best suited to prepare you for your future academic or professional goals.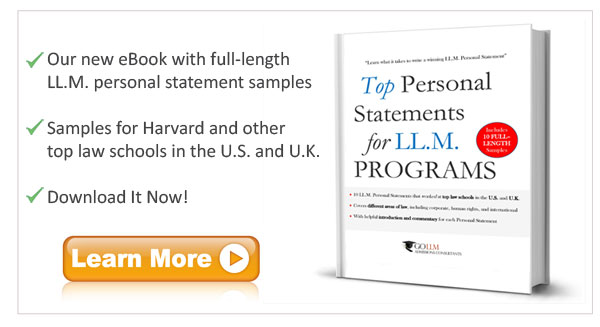 ---