We have launched our new website for Germany, Switzerland, and Austria. LL.M.-Bewerbungshilfe, Beratung und Unterstützung – unsere neue Webseite mit Dienstleistungen rund um Bewerbungen für LL.M.-Programme und Doktorandenprogramme (S.J.D., J.S.D., Ph.D., D.Phil) in den USA, Kanada und England gibt es jetzt auch auf Deutsch:
Zu einem LL.M.-Studium (Master of Laws, LLM) oder Doktorandenstudium in Jura (J.S.D., S.J.D., Ph.D., D.Phil.) an Universitäten wie Harvard, Stanford, Columbia, NYU, Berkeley, Georgetown, Chicago, Oxford, Cambridge oder der LSE angenommen zu werden ist heute schwieriger als je zuvor. Der  Zugang zu einem dieser prestigeträchtigen LL.M.-Programme oder S.J.D.-Programme bleibt den meisten Bewerbern verwehrt. Der Schlüssel zur Zulassung zu diesen und anderen renommierten "Law Schools" ist das Verfassen eines rundum überzeugenden, bis ins letzte Detail ausgefeilten Bewerbungsdossiers. Unser Anliegen ist es, Ihnen genau dabei zu helfen.

Als führende Bewerbungs- und Zulassungsberater ist es unser Ziel, Ihnen den Eintritt in die besten juristischen Fakultäten und LL.M.-Programme sowie Doktorandenprogramme in den Vereinigten Staaten (USA), Großbritannien (U.K.), Kanada oder anderswo zu ermöglichen. Unser qualifiziertes und erfahrenes Beraterteam wird Sie während und nach dem Bewerbungs- und Zulassungsprozess stets zuverlässig und fundiert beraten und in allen gewünschten Belangen unterstützen. Wir sind mit der Situation und den Bedürfnissen internationaler Bewerber bestens vertraut und möchten Ihnen dabei helfen, Ihre Ziele zu erreichen.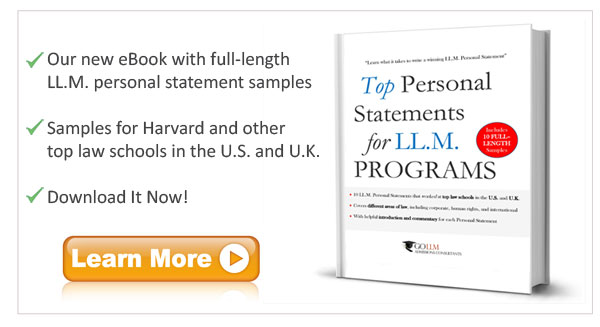 ---