Does your LL.M. resume or C.V. start with a career mission statement or objective line?
Perhaps something along the lines of "A motivated, ambitious, and intellectually curious law student in her final year seeking admission to an elite Master of Laws Program, which will allow me to utilize my advanced research and analytical thinking skills"?
Sounds horrible? Actually, some believe that this section of the C.V. "is the most important paragraph you will ever write".
Conversely, leading entrepreneur, business guru, and blogger Seth Godin has a different opinion on this type of boilerplate language in your resume or C.V. Moreover, he advises against adding a statement in your resume that confirms that you are willing to provide references.
As he notes:
Of course your references are available upon request. What are you going to do, refuse?

If your references are amazing, don't offer them on request, include them. If they're not stellar, do better work and get some stellar references. Give me names and phone numbers and actual testimonies.

And that objective line? Objectives are a relatively new addition to resumes. Their original purpose was to show a big company that you had aspirations to move up the corporate ladder (their corporate ladder) in a specific direction. For a few isolated careers, this made sense.

But now, the objective line is either used as a narcissistic caption about what's in it for you (not me) to hire you ("to learn about what you do so I can quit and go do it somewhere else soon") or, far more common, as an exercise in say-nothing doublespeak that can best be summarized as blah, blah, blah.

Starting your resume with blah and ending with an obvious bit of boilerplate does no one any good.
Having seen too many generic or otherwise flawed mission statements in LL.M. resumes, we – along with some other careers experts – tend to strongly agree.
In the case of an LL.M application, these often generic introductory statements make very little sense. Anything important that is not otherwise visible from your resume can and should be included in the LL.M. personal statement. Similarly, law school applications will ask for your references elsewhere, so it is not necessary to include them in the C.V.
While mission statements may in rare instances make sense in the private sector, they are almost never a good idea for an academic or law school C.V.
Image courtesy of http://sethgodin.typepad.com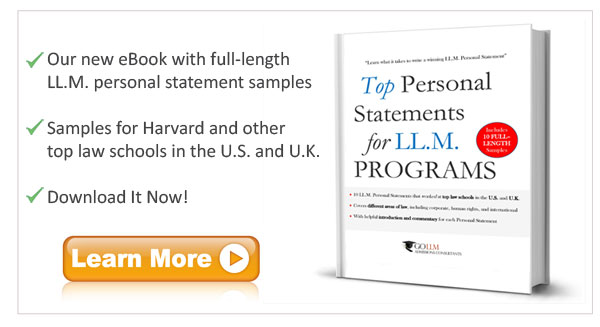 ---