We're at the early stages of summer and the livin' is supposed to be easy, but summer is also the time to start thinking about LL.M. applications.
To help you get started, we're starting a new series of blog posts which features some of the most popular law schools with LL.M. programs.  Follow along and see if we can help you find your dream school.
Our post today focuses on the Columbia LL.M., offered by Columbia University's School of Law.
Columbia, an Ivy League school, is in law school rankings consistently ranked as one of the top five law schools in the U.S. Consequently, Columbia LL.M. admission is highly competitive and, once admitted, the workload is considerable.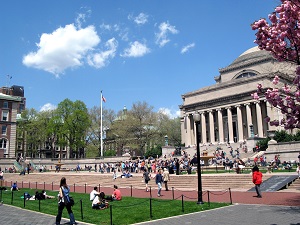 Nevertheless, Columbia is of course located in New York City, with its campus situated on the Upper West side of Manhattan in a lively neighborhood known as Morningside Heights. Thus, there is plenty to do – if and when you have some spare time!
Columbia's LLM program is a general, rather than a specialized, Master of Laws program.  This enables students to take a wide variety of classes.  In addition, as most courses are open to both J.D. and LL.M. students, international LL.M. students can sit alongside American students and enjoy a true cross-cultural experience.
Columbia Law School's LL.M. traditionally begins in August with a special three-week introductory course geared only towards international LL.M. students.  The purpose of this short but intense course is to introduce the common law and the American legal system and method to foreign trained lawyers and law students.  The course also trains students on legal research and writing.  After completing the introductory course, students are free to choose from the broad range of courses offered at Columbia.
Importantly, Columbia Law School is home to some of the most renowned research centers.  Examples include the Center for Law and Economic Studies; the Kernochan Center for Law, Media and the Arts; the Center on Corporate Governance; Center for Climate Change Law; the Center for International Commercial and Investment Arbitration; and the Charles Evans Gerber Transactional Studies Center.  Furthermore, it boasts specialized programs including those focusing on Human Rights, Tax Policy, National Security, and Intellectual Property Law.
To apply to the Columbia LL.M. program, candidates need to supply an LL.M. personal statement.  Specifically, the Columbia LL.M. personal statement should describe your background, academic interests, the program of study you wish to follow and your reasons for doing so and should not exceed three double-spaced pages.
The Columbia LL.M. application package must also include two reference letters (one academic and one work reference), transcripts from all post-secondary institutions attended and a curriculum vitae. For non-native English speakers, Columbia also requires a minimum TOEFL score of 105 with at least a score of 26 on the Reading and Listening sections and at least a score of 24 on the Speaking and Writing sections.
Those admitted to pursue a Columbia LL.M. degree will be rewarded with a fast-paced learning environment with cutting edge courses, a global professorial staff, and the attraction of a big city as a backdrop to your education experience.  If you are looking for adventure and intellectual rigor for your LL.M. experience, Columbia could be the school for you.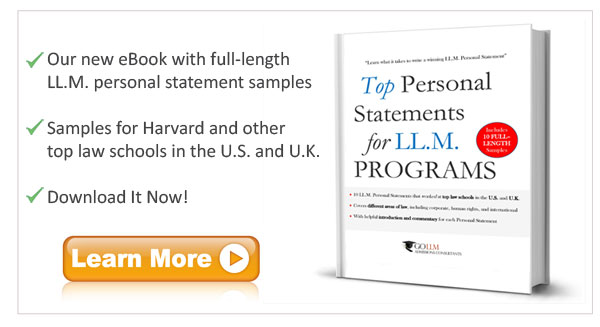 ---